Increase productivity with routines, Atlassian Jira and the right breaks
Tips for a super productive home office
The home office could be great – but only if you maintain productivity and a healthy work-life balance!
Below we have compiled a number of great tips and tricks for working at home.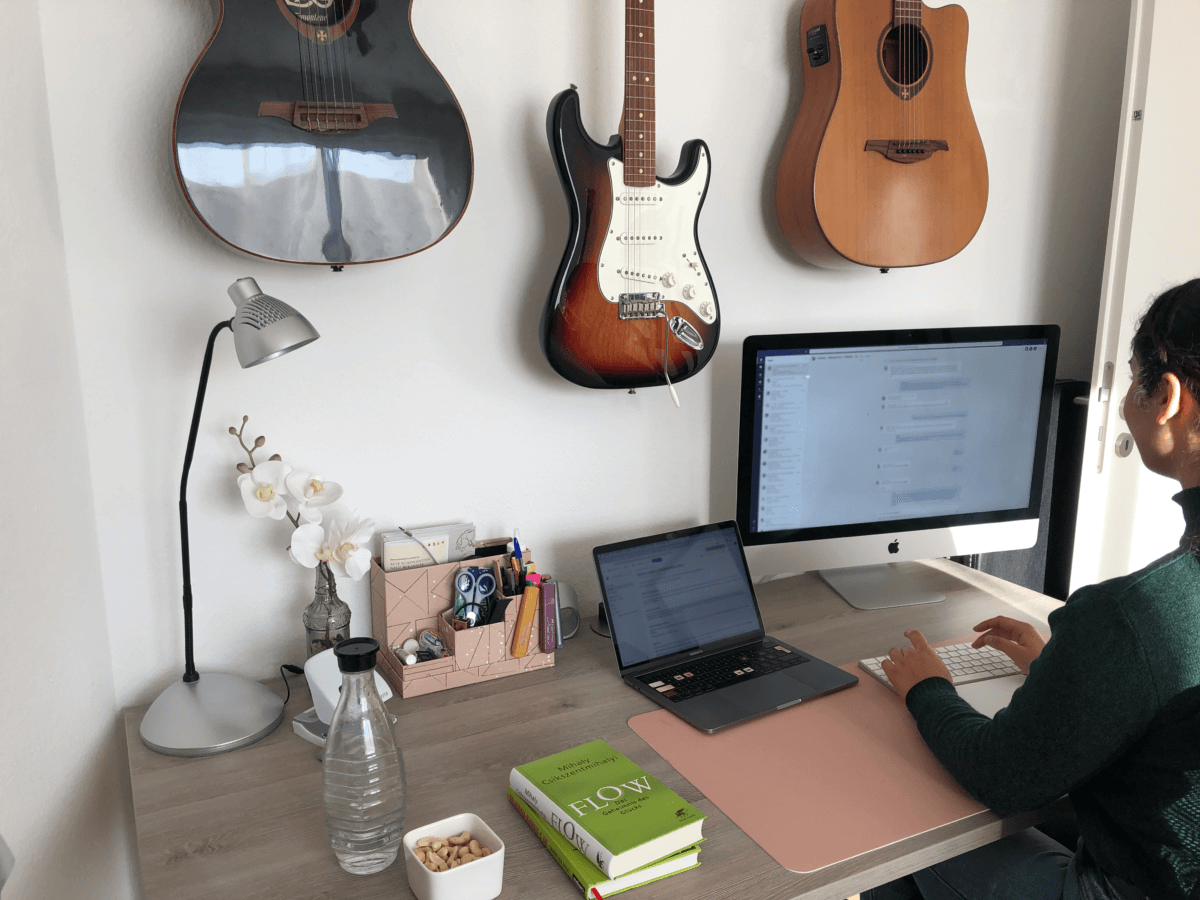 Follow your morning routine
Walk into the kitchen in boxer shorts and a t-shirt, grab a cup of coffee and head straight to the computer. You can take a shower later, right? – Don't!
You get distracted, you lose track of time, and you panic when you suddenly have to get ready for a video call.
Make the effort to get up and get ready for a normal work day, every day.
Are you an owl or a lark? Figure out when your focused periods are and place your work in that time frame. Make sure you are not disturbed during your peak periods.
Actually, it is quite easy to explain this to partners, roommates or friends – but not so easy for children to understand. A traffic light system on the door could help you: Red: "Stop! Do not disturb!" Yellow stands for: "I'm working, but I have time for short questions." And green stands for: "I'm taking a break right now, we can play something for a minute."
When it's time for a break, most of us click on LinkedIn, Facebook and Co. for a while – Step away from the screen! This one you look at all day.
For example, a more productive way to recharge your batteries is to cook something, go for a walk, play sports, or just draw with the kids.
Another simple trick is to reduce eye strain by following the 20-20-20 rule. Stop looking at your screen every twenty minutes. Stare at something 20 meters away and hold it firmly in your gaze for 20 seconds. Your eyes will thank you.
Set everything for productivity
We need our own space, an ergonomic chair and plenty of daylight to work productively.
But actually the main thing that the room is clean!
Lukewarm and half-full coffee cups, 100 Post-Its on the screen, or the crumbly breakfast plate on the table greatly affect your productivity, not to mention your concentration.
Only if your place to work also gives you room to think can you tackle your work from home with a focused mindset.
In the home office, the fixed structures familiar from the office often fall away, and direct communication with the team is also partially eliminated. Make a list of the tasks you want to do each day, and then do them. Make sure that everything you need for your work is available and that your colleagues are informed. Their team may work in different locations, but they still work together.
Cross completed tasks off the list. That way, you and your team can see what you've already accomplished.
Plain and simple, get your Jira tasks done and use Confluence to share your know-how!
5 reasons to choose a managed service provider
There are many good reasons to use managed service providers as the use of supporting software applications advances and the management of systems becomes more complex. This makes it all the more important to have a managed service provider at your side. 1. relieve the burden on your own IT
3 steps to the right DevOps solution
The path to an individual DevOps solution does not always have to be long and complicated. Polygran efficiently develops solutions with a structured and solution-oriented approach. Our solution concepts are adapted to the requirements of our customers and are developed in just three steps. The entire consulting process is characterized
DevOps meets Atlassian Toolchain
We asked ourselves: How can DevOps be realized with the Atlassian toolchain? We asked Michael Eberhardt, one of our Atlassian Operations Engineers, about this. Michael joined Polygran in early 2018 and is an expert in Atlassian products. In this interview, he tells us what the Atlassian Toolchain is, what benefits